Starring: Jeremy Clarkson, Richard Hammond, James May
Category: Documentary (sort-of)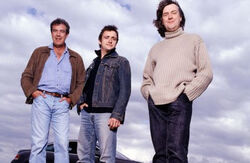 If I have a guilty sin, it might as well be cars. Great cars. You see, I was never into cars when I was young. No yellow Lamboghini Countach poster on my wall. No fascination with rpm or engine capacity or horsepower. Cars were just a way from point A to point B. That all changes when I started driving. Not satisfied with just driving with my cars, I began to appreciate the way it rolls at corners, when does it the engine really kick in and how far I get when I apply the brakes. I began to appreciate and enjoy driving.
Top Gear is basically a car review program. But rather just a dry review, it does so with panache and style like no other car program. The presenters are charismatic as the cars themselves, finding new ways of gaining our interest while educating us about the car. They are opinionated and are straight to the point. They are not afraid of hurting the car makers feelings, the same people who loan them the cars that they review. As proof, they recently won an Emmy, a "International" Emmy, but an no less an Emmy for Best Non-Scripted Entertainment Programme. Entertainment.
 The show, is anything but boring. There are the interesting presenters, the mysterious Stig test driver, segments with stars driving around their track and humor abound. They are versions being seen around the world but to fully appreciate the program, find the full hour UK version (hint-hint). The segments the international versions usually drop is the news segment where they talk about "the news" in the car industry. Or mock the news, to be more accurate. Another interesting segment that is usually chopped is the "Star in the reasonable priced car", where a star is put in a Suzuki Liana and goes around the same track that the other cars do.